"Engaged, enthusiastic, and loyal employees are pivotal drivers of growth and health in any organization." – Patrick Lencioni
All companies understand that engaged, enthusiastic and loyal employees are critical to the success of their organization.
Yet, one of the biggest barriers, to assembling a successful team is the lack of investment of either time or resources in building and developing a cohesive and competent team.
This barrier can be easily overcome by adopting a structured and comprehensive hiring process. This can have a trigger effect on the health, success and growth of any business.
A well-defined hiring process has the following key steps:
When creating or rebuilding your hiring process, start with the above-mentioned four step process and add nuance to customize it to your unique vision and requirements.
Step 1: Clearly define the position:
Job descriptions are the foundation and a critical tool for defining roles and building a team that is made to succeed. Job descriptions have a direct impact on how a company hires, manages, pays and develops its employees.
A well formulated job description provides transparent communication on at least the following items to the prospective candidates:
Functional expertise needed for the job
Specific qualifications/years of experience/accomplishments required
Locking down the absolute must-haves and the good-to-have skills can be helpful
Expected performance standards
Salary range
Reporting structure etc.
As against a vague and poorly-defined job requirement that aims to cast the widest net possible among active job seekers who would unscrupulously apply for everything, a detailed job description attracts the right kind of applicants, and conserves crucial time and resources by weeding out unfit candidates, right in the beginning of the hiring process.
For example "Must have led HTML/CSS software team that leveraged Agile methodologies to build a consumer web site…" is much different than "5+ years' experience as lead developer."
It can help your company reach the most competent candidates faster and with greater accuracy. It can also help your company in strategic, tactical and legal compliance.
Step 2: Advertise Properly:
In a competitive job market, advertising the position is undoubtedly one of the most crucial – and the most overlooked- aspects of the hiring process. It's important to research where the most relevant pool of resources resides and how best to reach the highest number of them.
This may mean publishing jobs to reputed job sites like Monster, Dice etc., online classified venues like Craigslist, attending trade shows, placing free employment ads through social media outlets like Twitter, Facebook and LinkedIn, sending job advertisements to colleges and schools, and reaching out to your network or pool of past candidates.
Your job ad must contain the following information at the minimum:
Job description
Employer information
Method of applicant contain (email address for resumes, phone number, mailing address)
Response window
A well-curated social media presence can be very helpful for your company to achieve visibility and search-ability among the best talents available. A word of caution: On the social media site of your company, refrain from making polarizing political or religious statements or anything that can be potentially viewed as unprofessional. The reputational cost of doing so can be detrimental to the continued success of your company.
Step 3: Evaluate candidates: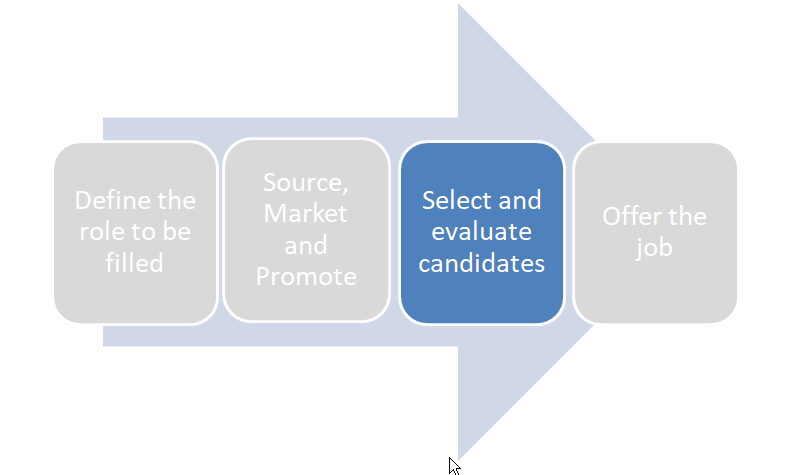 The next fundamental, and also the most complex, step is resume screening. This step can be overwhelming is a properly outlined strategy is not followed.
A few tips that can be handy are:
Look beyond keywords– Smart candidates have figured out that loading their resumes with buzzwords will raise them in search results. You want candidates with hands-on-experience, so focus on resumes that show when and where the technology was used on the job. As a rule, keywords that show up under job overviews are typically more meaningful than keywords that show up in summary.
Pre-employment Skill testing: This is step where actual domain expertise can give you an edge over your competitors. In case you lack in-house domain experts, external help can be availed. You can also leverage online pre-employment skill testing for tech roles like brain bench and other online tests.
Scan social media accounts: Reviewing the social media accounts of applicants can give you a glimpse of who your applicants are outside the confines of their resumes or cover letters. It can reveal useful information about their personalities, professional credibility and what their colleagues, seniors and past employers have to say about them. It can also highlight potential red flags like drinking/drug abuse, poor communication skills, bad attitude indicators, and discriminatory comments on race, religion, gender etc., or plain lying about qualifications.
Phone screen candidates: The focus of the tech phone screen must be to weed out unqualified applicants so that you invest time with onsite interviewees who are most likely to get offers.
The aim of this step is to ensure each candidate you pass on to the onsite interview has the required capabilities, meets your salary and eligibility requirements, and genuinely wants to do this type and level of work.
Fair and equal process: Last but not the least; it is essential that your resume screening process is fair and equal to all candidates.
At the end of the screening process, you must have a short list of candidates that you want to interview.
Interview
This is the final step in the selection and evaluation process which can lead to an offer. If the interview is onsite, any help that you can offer to the applicant (mock interviews, talking about the employer, tips on dressing and etiquette etc.) can be invaluable.
During the interview, try to get examples of relevant accomplishment, ask behavioral questions about how they will react to complex situations, and if possible, work through a real problem of skill demonstration.
Allow the interviewee to ask you questions and respond to his/her queries respectfully.
Step 4: Offer the job: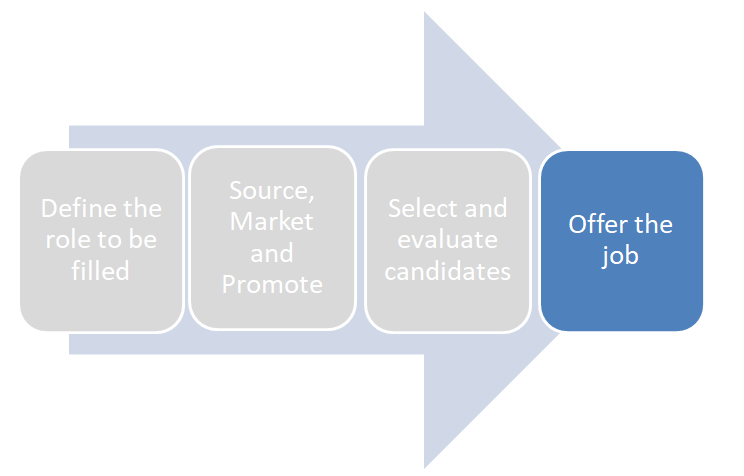 Once you've found the right candidate for your position, make an initial offer. If not already agreed, any negotiations regarding salary or terms of employment should take place at this stage.  The final offer letter must contain the main terms and conditions of the job, the final salary, perks etc., and the date employment starts and other important clauses. Remember to the ask the candidate to send you a signed copy of the offer letter to establish the terms on which the offer was made in case of any disputes.
Pre-employment checks:
Pre-employment background checks are crucial to establish the authenticity of the applicant. In an urgency to fill the vacancy, don't make rushed decisions and allow sufficient time to conduct a thorough background check which can comprise of one or more the following:
References- At least 2 references must be contacted.
Medical Examination if needed.
Educational and certification checks.
Criminal background checks.
Work permits/visa checks etc.
Here are a few things to be kept in mind:
Use reliable and reputable sources only
Begin the process at an optimum time-  not very late so you still have the option of other candidates and not too soon to avoid high costs associated with such checks
Let the applicant know what checks will be made, how they will be carried out and how long the process will take
In case of failed checks give the applicant a chance to explain, depending upon the severity of the issue. You don't want to have to go through the whole recruitment process again due to a misunderstanding.
The task of hiring is not complete until the employee settles in the organization and starts delivering the expected levels of performance.
Your brand and your reputation as an employer (or hirer) depend on the success of the hiring process along with how respectfully and fairly you treat you applicants throughout the process.
Conclusion:
There is no more essential tool than a comprehensive hiring strategy which can enhance your chances of finding and retaining the right employees to effectively fulfill any openings, saving your business valuable time, money and resources as well as poising it for long-term success.
I am an Entrepreneur and Angel Investor. Board Member of TiE SoCal Angels Fund, and CEO @ Optizm Global, the executive search firm. We are a Right Fit Recruitment & Placement Agency.
I'm the Co-Founder of "StartupSteroid" the platform to connect founders with investors.
As an Angel Investor I look for Business Plan, Cashflow, Core Team, Board of Advisors, Secure IP, Quality Investors, Monetization Models, USP, Scalability, Strong Returns, Growth Market, and Board Role.