With the advancement of technology in the past decade, recruiters have evolved and have become strategic, savvy and supercharged in their ability to surface the right candidates for the roles. With 2020 we are going to embark on our new journey in a new decade so as a recruiter one must be aware of the following points.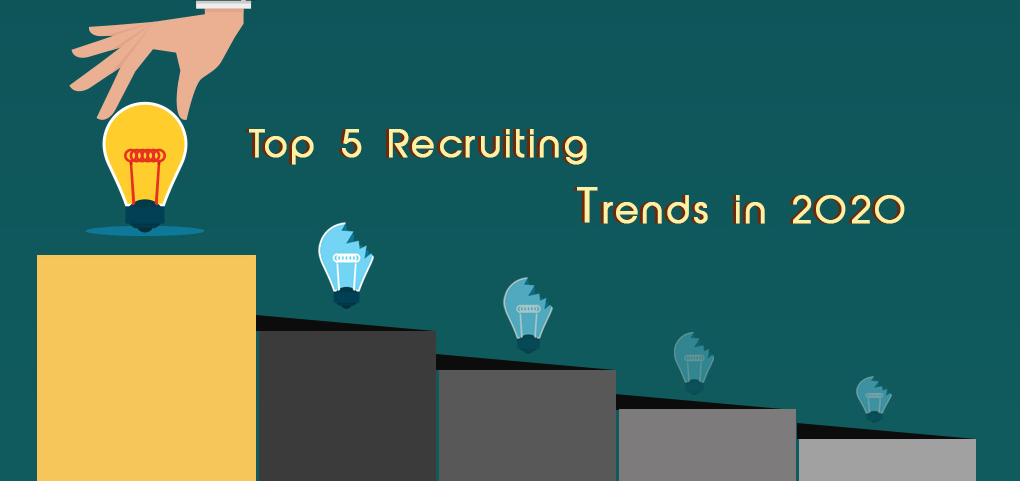 Good "candidate experience" must be the priority – It has been seen that organizations that attract the best of talent create recruitment experiences that turn candidates into an employee. According to "Talent Board, Employers that can create an exceptional candidate to employee experience have their pick of talent". Further, according to this survey conducted since 2010 and in over 1,000 organizations, there is 38% surety of job acceptance by a top talent who are satisfied with their experience as a candidate. About 87% of candidates say, great recruitment experience changes their perspective about a company on which once they doubted. On the other hand, 83% of talent said a bad recruitment experience changed their mind of a company and a job they once thought higher of. In short, a recruiter most focus on creating an experience that convinces a candidate to become an employee. Make the candidate feel valuable even before they have joined your enterprise. Not only during and after a candidate has joined your office you must be communicative even if a candidate fails to get the job. Make sure from the very beginning that a candidate's recruitment experience is aligned with the post you are recruiting for.
Keep in check with the soft skills of the candidate – There is a prediction that we are amidst skill shortage which will rise to 29 million by 2030. The bulk of what will be missing is soft skills. Now a day's market is changing so is the working environment and thus recruiters are focusing more on hiring employees who are adaptive to changing environments and flexible organizational structure. Between now and 2030, demand for social and emotional skills will grow across all industries by 26% in the United States and by 22% in Europe. While some of these skills – such as empathy – are innate, others – such as advanced communication – can be honed and taught.
Be a strategic recruiter – With time the role of the recruiter has changed, the traditional way of recruitment might not be able to get you the best talent. Now the role of the recruiter has become more tech-enabled than ever. They not only are relying on different software but also are looking to fill a post both outside and inside the organization. Technology allows hiring managers and recruiters to have a closer relationship than ever.
Make a compelling employer brand to attract more and more top talents – In today's competitive world money is not the only factor to attract top talents. Different perks, corporate prestige, cultural, and ethical values combined to form a package for the candidate to join your enterprise. According to LinkedIn research companies with great employer brands receive 50% more qualified applicants and see a 50% reduction in cost-per-hire. Employer brand encompasses every touchpoint a person has with your organization. Your career site and social media presence, the endorsements of employees and reviews of the company on Glassdoor all contribute to how your organization is perceived.
The rise in AI/ Technology – Technology is at rising and is somewhat making the process of recruitment more automated and accurate. So, at the starting of this decade make sure to be in integration with the latest technology and make the best hire to a job opening. At all stages of the recruitment journey, technology can enhance the recruitment journey and free recruiters from the tedious, manual processes that hinder them.
So, recruiters gear up with your recruitment strategy and make the best recruitment journey for the candidate this year.
I am an Entrepreneur and Angel Investor. Board Member of TiE SoCal Angels Fund, and CEO @ Optizm Global, the executive search firm. We are a Right Fit Recruitment & Placement Agency.
I'm the Co-Founder of "StartupSteroid" the platform to connect founders with investors.
As an Angel Investor I look for Business Plan, Cashflow, Core Team, Board of Advisors, Secure IP, Quality Investors, Monetization Models, USP, Scalability, Strong Returns, Growth Market, and Board Role.